The photo shows the ancient city of Yangliuqing in Tianjin Municipality (north China). [People's Daily Online/Zhou Yu]
Yangliuqing, an ancient city located in Tianjin Municipality (northern China), strives to protect its traditional culture, ranging from New Year's images to ancient Chinese folk art, historical and cultural heritage depicted. by the longest canal in the world.
The city is known for its centuries-old woodcuts of Yangliuqing, which is one of the most prestigious forms of New Year's decoration in China, having previously been declared a National Intangible Cultural Heritage. Several heirs to Yangliuqing woodcut in the city have dedicated themselves to the transmission of this art form.
Zhang Hong, the seventh generation heiress of traditional folk art, said she learned the craft at the age of 19 from her stepfather, a state-level heir.
"It's a little hard to learn at first. I started with the coloring process, which has 20 steps, just like putting on makeup. It takes a lot of patience," Zhang said, noting that this is the process. color that distinguishes the printing on wood of Yangliuqing. as an art form.
Zhang's daughter, who is an eighth-generation heiress and also a graduate student, said she will bring further innovations to folk art. Zhang explained that her daughter is now inviting designers to design new patterns to be included in the art form. "I encourage young people to do this," Zhang added.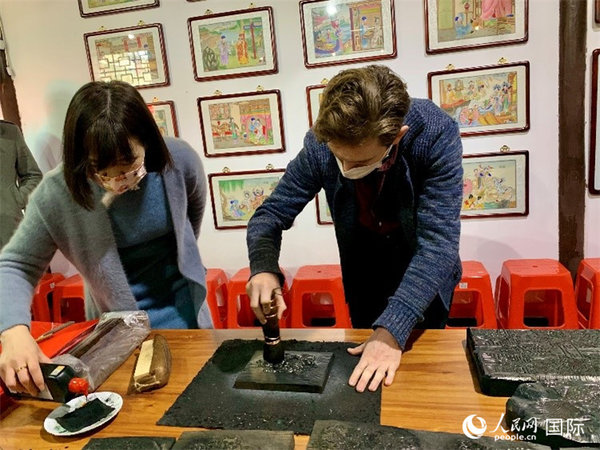 A foreigner (right) learns how to print a New Year's photo in the ancient city of Yangliuqing, north China's Tianjin Municipality. [People's Daily Online/Zhou Yu]
Hao Guifen is a fifth generation heir of the Yangliuqing paper-cutting craft, another piece of intangible cultural heritage found in the city. "I learned this skill from my grandmother when I was young," Hao said.
Hao can wield scissors to magically cut a sheet of colored paper to produce a work of art, all from memory, without preparing detailed sketches in advance. "It is difficult to master a high level of skill," Hao said, explaining that she encouraged her daughter to take a fine arts specialization in order to impart her craft skills.
Meanwhile, the ancient city continues the construction of the Grand Canal National Cultural Park (Yangliuqing section) along the Beijing-Hangzhou Grand Canal, which crosses the city, in order to promote the culture of the Grand Canal.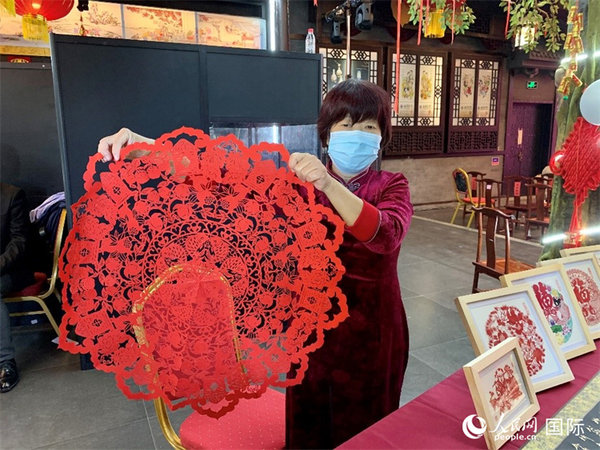 Hao Guifen shows his delicate paper cutting work in the ancient city of Yangliuqing, in the municipality of Tianjin (northern China). [People's Daily Online/Zhou Yu]
The city invited experts from the Tianjin Urban Planning and Design Institute and other famous experts across China to work out an optimal plan for the development of the Yuanbao Island project, part of the cultural park. , in order to avoid failures in development plans, according to Zhang Wei, the mayor of the city. "We are discussing the plan with the National Administration of Cultural Heritage," Zhang said.
Yangliuqing has selectively renovated ancient courtyards and cultural monuments on the principle of "renovating old buildings while preserving their original features" to inherit the cultural heritage of the canal, Zhang added.
(Source: People's Daily Online)